Yep that was the Header for this crazy picture...
Ok it was a crazy week here...first there was "Fay" the Terrible Tropical Storm that hit Florida a Record Breaking 4 times!! We knew about the approaching storm days before it hit Fla. the 1st time - we prepared for it...
Yep the family was prepared for the Big storm...that was headed right for us...
Well Fay came into Florida way South of us and was headed out into the Atlantic ocean - it appeared that we would miss the storm all together - NOT!!! This storm hit the ocean - stalled (dumping TONS of rain)- and then came back into Florida. This time she passed just about an hour north of us - which means we had the the wicked south-end of the storms winds and rain - GREAT!! So schools were closed, our county was declared a State of Emergency for flooding, the weather took a total tun for the worse.
Now mind you I was counting on the big CFD (Certified Fiskars Demonstrator) training even in Orlando on Friday, with the fun Crop afterwards. I planned for this trip, I arranged to have the day off (which is no small task), I bought a new car 10 days before (this means I had a way to Orlando - my old car was unworthy). I was so excited about having the New To Me Ride for the trip...
I pre-registered for all the events, I invited my fellow Fiskateer and favorite scrapping buddy Denise to come along, I was ready!! Then when I woke up Friday morning - the weather was horrid - I spent hours looking at the news - talking to Denise and Cristal about whether we should cancel the trip. I did not want to cancel - this was a big deal for me - but I didn't want to kill myself trying to get there either. Well call me crazy - I decided I just had to go!!
So Denise and headed off to Orlando - through the storm, and the flooding. We arrived at AC Moore's safely, a little frazzled from the intense driving conditions - but safe. The training was fun - Rebecca is a hoot! Her and Megan (her trusty fiska-assistant were great - I learned a few things too - like how to do perfect corners with the Threading Water Punch!! We met some awesome ladies too - this was turning out to be a great day - wet - but great!!
We headed out to the next stop - a wonderful little Scrap store called Piktails. The owner was a super nice lady, and she had a great selection of scrappy goodness in her store. The crop was a huge success, Rebecca and Megan did a Great little mini album Make and Take with everyone and of course she shared the Fiskars Love...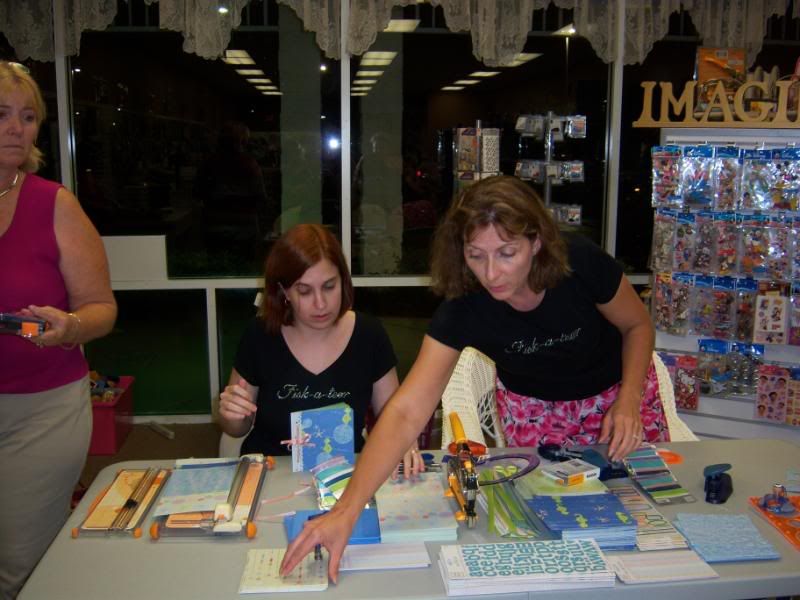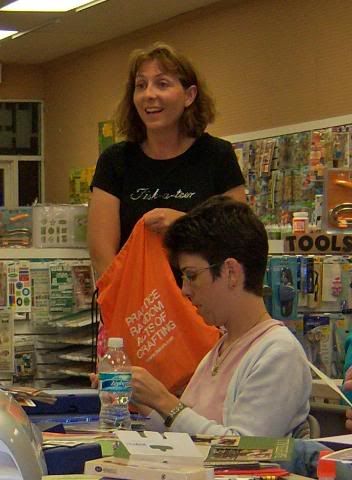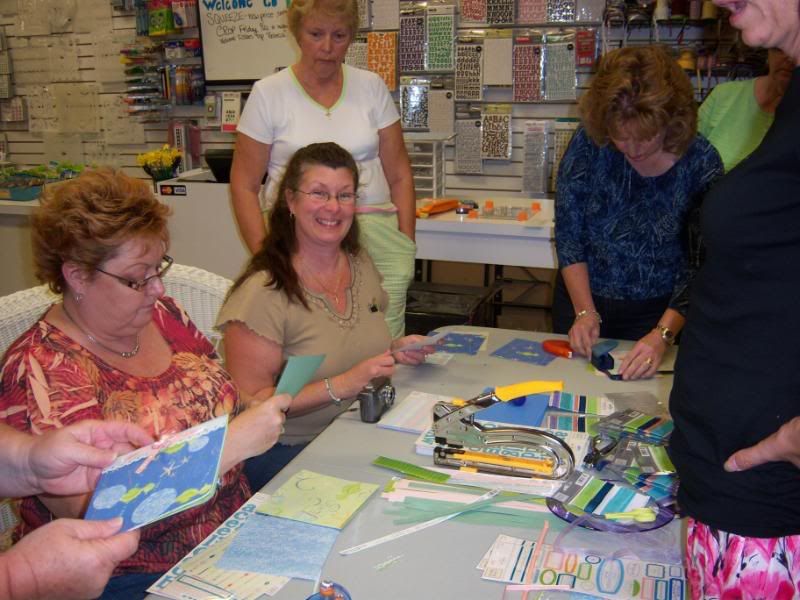 Ok so we were all having a great time - so we just had to bring out our Mascot's from Just Scrapping....meet Thelma and Louise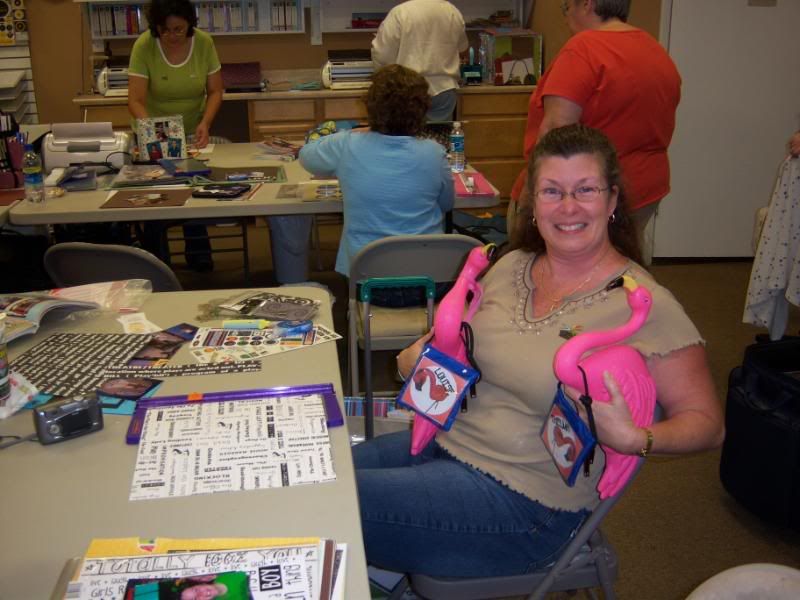 Thelma and Louise were adopted into our Scrapbook forum last month, they are planning a trip around the country - meeting all of the girls and visiting many places. We were lucky enough that Denise had just finished off a couple of weeks of Girl Scout Camp with Thelma and Louise and they hadn't left Florida yet - so we brought them along to meet our Lead Fiskateer Rebecca. This isn't the first time we have had some Flamingo fun - another group that I was a part of came up with the idea of a traveling Flamingo "Ned", but unfortunately someone removed Ned from his travels and no one has ever heard from him again. We ended up with twins when I went to adopt our new Flamingo, as the owner only "released" them in pairs. We held a contest in Just Scrapping and everyone voted on names for our finely feathered flamingo friends - and Thelma and Louise were chosen to be out Forum Mascots. Ok so Rebecca thought we were crazy - in a good kind of way - but it was all in fun and Thelma and Lousie love being the center of attention...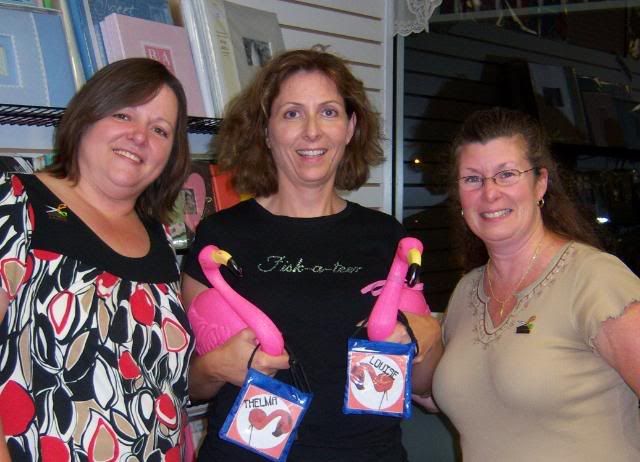 So this is how we ended up with this crazy picture - and the Funny Heading.
We ended up closing the crop - it was supposed to end at midnight and we ended up chatting with our wonderful new fiska-friends, and the awesome store owner till after 1:30am - WHOA!! Denise and I still had a 2 hour drive home - in the rain again!! What a weekend!! It is one that I will remember fondly for a lifetime!!